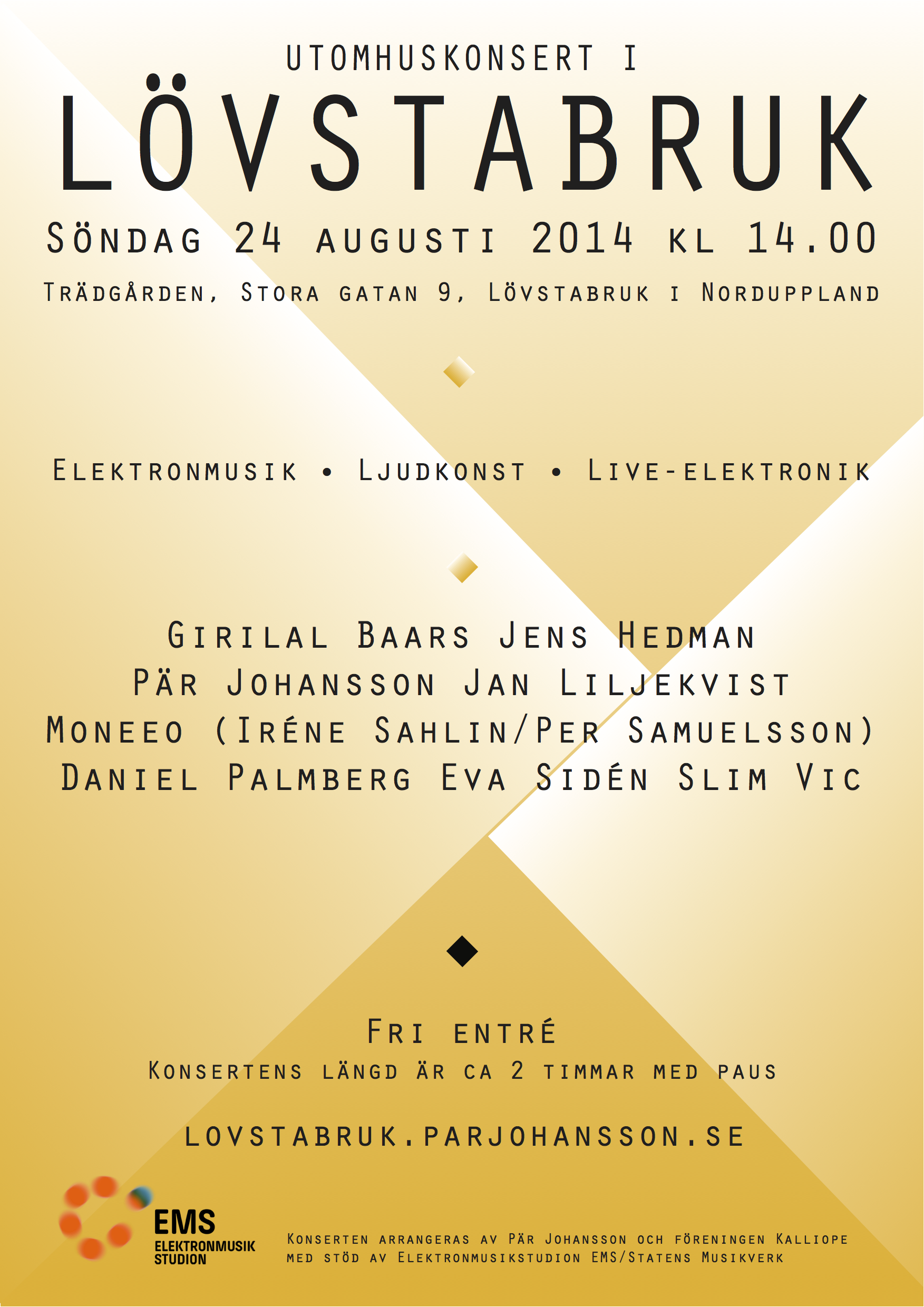 Elektronmusik, ljudkonst och live-elektronik i trädgården på Stora gatan 9, Lövstabruk, Norduppland.
Fri entré!
Medverkande:
Girilal Baars
Pär Johansson
Jan Liljekvist
Moneeo (Iréne Sahlin & Per Samuelsson)
Daniel Palmberg
Sidén Hedman duo (Jens Hedman & Eva Sidén)
Slim Vic (Viktor Zeidner)
Konsertens längd är ca 2 timmar med paus.
Facebook: https://www.facebook.com/events/501186360016399/
Konserten arrangeras av Pär Johansson och Föreningen Kalliope i samarbete med Lövstabruks kulturförening och Elektronmusikstudion EMS.
Vi har tyvärr råkat ut för ett datorhaveri i Studio 2 vilket har lett till att studiodatorn nu är inlämnad för service. Förhoppningsvis återfår vi det så snart som möjligt, men det beror så klart på vad det handlar om för sorts fel. ​
Under tiden har vi gjort en temporär setup med hjälp av livedatorn och ett Motu-ljudkort så det går fortfarande att arbeta i studion även om livedatorn inte riktigt har samma resurser som den stationära. En ytterligare konsekvens av detta är att de projektmappar som ni har lagrade på hårddiskarna i Studio 2 för tillfället inte går att komma åt om ni inte har tagit en backup.
Förhoppningsvis har vi fått ordning på det här snart och vi hoppas att den temporära lösningen kan fungera för er så länge.
On occasion of Mr. Rózmann's 75th birthday Editions Mego in collaboration with EMS will release the definite edition 7 CD box set of the masterwork Twelve Stations. It was composed between 1978 and 2001 and has a running time of nearly 7 hours.
RELEASE DATE NOVEMBER 17, 2014!
Tillsammans med Musikverket och Scenkonstmuseet byter EMS logo från och med 18 juni. Läs mer på Musikverkets hemsida.
http://musikverket.se/artikel/musikverket-far-ny-visuell-kostym/
VEMS fortsätter fira sitt 25:e år och hälsar alla varmt välkomna till Årsta på jubileumsårets andra klang-, brus- och jubelkonsert! Ett picknick-passande evenemang som genomförs även vid regn! Fritt inträde! Tonsättare och ekvilibrister verksamma vid Elektronmusikstudion bjuder på levande elektronik och elektroakustiska verk i formfulländad danspaviljong.
Alla som är intresserade av att bygga, modifiera eller reparera syntar och andra (o)ljudslådor är varmt välkomna till oss för ett trevligt DIY-mingel! Vi har öppet mellan klockan 18.00 och 21.00 (OBS! till klockan NIO!) och adress är EMS, Söder Mälarstrand 61, Stockholm. Ingen föranmälan behövs.
Välkomna till EMS Tisdag den 27 maj kl 14-16.00!
På EMS, Söder Mälarstrand 61, håller Jonathan Fitoussi,
Welcome to MIC YOUR LIFE workshop with Bigawatt! This workshop is presented as part of TITWRENCH Stockholm Festivalen.
Members of Popkollo are invited: http://www.popkollo.se/arrangemang/bygg-kontaktmikrofon-i-workshop-med-bigawatt/
Workshop Description: Build a contact microphone that can amplify anything it touches. Marisa DeMarco (aka Bigawatt) will teach you how and we'll even make it waterproof! This workshop is ideal for beginners and even children older than 10! You'll leave with a working contact mic of your very own to take with you. The Workshop is free but space is limited. Please RSVP to to reserve a spot.
Workshop Logistics
Where: EMS Elektronmusikstudion Söder Mälarstrand 61, Münchenbryggeriet
(T-bana Mariatorget)
When: Saturday 10 May from 11-14.00.
Language: English
Information about Bigawatt: http://www.bigawatt.com/
For the full festival program see here: https://www.facebook.com/events/443345505796544/
On Friday 9 May 17-19.00 EMS is hosting a workshop in collaboration with Titwrench Festivalen. "HOME IS WHERE THE HEAR IS" ! is a part of the TITWRENCH Stockholm Festivalen Program. The Workshop is free but space is limited: RSVP
Workshop Description: Exploring the limits and liberties of traveling genre boundaries in poetry and music, Bianca Mikahn delivers first-hand accounts of the challenges involved with embodying various musical genres and mediums against expectation and tradition. Attendees are invited to engage in dialogue, exercises and prompts designed to raise questions and awareness's around where our comforts lie as artists and fans, what is and isn't "normal" in various sub cultures and how we can more appropriately embrace these differences.
Workshop Logistics
Language: English
Where: EMS Elektronmusikstudion, Söder Mälarstrand 61, Münchenbryggeriet
(T-bana Mariatorget)
When: Friday, May 9 17:00 - 19:00
For more on the festival visit: https://www.facebook.com/events/4433455057965 http://titwrenchstockholm.tumblr.com
Tisdag den 6 maj kl 19.30 är det avslutningskonsert med deltagare från EMS utbildning Level 2 på Fylkingen i Münchenbryggeriet,Torkel Knutssonsgatan 2, ög.
Deltagare är Dúi Ardal, Axel Sandin, Lena Källberg, Johan Henning, Nathalie Wuerth, Christopher Lundholm.
Fri entré Välkomna!
After last year's enthusiastically received first edition, the festival format "Alter Schwede!" is in 2014 dedicated to opening borders for the second time: Artists from Sweden and Berlin gather at ausland for an interdisciplinary programme between poetry, experimental music and performance art. Many of the appearances are premieres of newly formed duo-collaborations.

Elektronmusikstudion Stockholm (EMS), one of the pioneering institutions for electronic composition and sound art in Europe, which celebrates its 50th anniversary this year, is cooperation partner for "Alter Schwede!" 2. Many of the musicians performing in the festival's concert branch have recorded at EMS before.
25 April: Concert: Vinyl Terror and Horror: EMS Special, Text-Sound-Performance: Martin Högström & Mario De Vega, Performance: Leif Elggren: "Fear and Food (Don't eat too much !)"
26 April: Text-Sound-Performance: Linn Hansén & Liz Allbee, Performance: Imri Sandström: "(S)TONE TOLD", Concert: Dror Feiler & Jassem Hindi, DJ: Hanno Leichtmann
27 April: Performance: Erik Bünger: "The girl who never was", Text-Sound-Performance: Athena Farrokhzad & Christian Kesten, Concert: Daniel M. Karlsson & Andrea Neumann
http://www.ausland-berlin.de/alter-schwede-2
Archive night on the occasion of Elektronmusikstudion Stockholm's (EMS) 50th anniversary - opening night of "Alter Schwede!"2-festival! Writer and musician Pär Thörn and EMS-director Mats Lindström will talk about EMS' history and play selected recordings from the EMS archive, with focus on historic text/sound-compositions.
http://www.ausland-berlin.de/ems-stockholm-prasentation-und-archivabend
Elif Balkir, nyantagen doktorand vid institutionen för musik- och teatervetenskap vid Stockholms universitet, presenterar utgångspunkterna för sin forskning, vars rubrik är "A comparative study of technological och creative approaches to GRM in Paris and EMS in Stockholm". Studien handlar om två miljöer för elektroakustisk musik och omfattar åren 1960-80!
Plats: I musikvetenskapens bibliotek på Frescativägen 22
Tid: kl 14-16.00
För mer information se "Musikvetenskapens högre seminarier VT14:"