News and events - Elektronmusikstudion 2014
Roland Kuit will teach a Master Class at EMS on Friday 19 December, 16-20.00! The 'On and Off' lecture explains the basics of binary synthesis in use with modular synthesis in an unconventional way, i.e. by explaining the limitless possibilities that even the 'on' and 'off' switch offers. From a 2-switch instrument to state of the art complex pattern shapers. Shaping audio by creating 4 and 8 bits pipelines and creating switch matrices of choice will offer numerous possibilities in sound design.
Free admission/Fri entré
For more information, please go to: http://rolandkuit.com/To_be_ON-OFF.html
Please R.S.V.P to: ylva.skog@elektronmusikstudion.se
Söndag den 7 december kl 18.00
är det avslutningskonsert med deltagare från EMS utbildning Level 2 på Fylkingen i Münchenbryggeriet,Torkel Knutssonsgatan 2, ög.
Deltagare är: Franz Edvard Cedrins, Jakob Hvistendahl, Måns Kärnekull, Niclas Lindgren och Anna Novak Uddholm.
Fri entré
Välkomna!
EMS konferensrum fredag 21/11, kl.13-16
Jenny Sunesson presenterar: Feministisk ljudkonst - pionjärerna dom g(l)ömde
Schaefer, Cage, Hodell & Fahlström. De europeiska gubbarnas envälde inom den elektroakustiska musikhistorien tycks intakt.
Men när Sunesson började skrapa på ytan öppnades en gömd värld av okända nätverk och glömda kompositioner gjorda av kvinnor och utom-européer. Resultatet blev en annorlunda historiebeskrivning.
Begränsat antal platser. Var god anmäl deltagande till: info@elektronmusikstudion.se
F
Foto: Jenny Sunesson
Elektronmusikstudion, EMS, is an established and integral part of the Swedish and international cultural scene, but was in its early days plagued by wrenching conflict.
The book Politics and Aesthetics in Electronic Music, A study of EMS Electronic Music 1964-79 (Kehrer Verlag, November, 2014) will be presented at Kulturhuset Stadsteatern in Stockholm in conjunction with a discussion of how the aesthetic and political conflict becomes a field of tension in which the Swedish art scene ends up on the world map.
Language: English •
Sanne Krog Groth, Assistant professor, Roskilde University Ludger Brümmer, Studio director and composer, ZKM Karlsruhe Savannah Agger, Composer, Berlin Rolf Enström, Composer, Stockholm Mats Lindström, Composer and Studio Director, EMS Isabel Thomson, Moderator, International coordinator, Swedish Performing Arts Agency (Musikverket)
The seminar is presented by the Swedish Society of Composers FST. http://soundofstockholm.se/en/conflict-as-a-creative-force/
John Richards from Dirty Electronics will discuss his fascination with hand-held synthesisers and the intersection between artwork and printed circuit boards. Richards will also talk about his forthcoming release and synthesiser with Mute Records, and collaboration with graphic designer Jack Featherstone and Artists & Engineers that is a hybrid digital analogue artwork/circuit. There will be an opportunity to look in more detail at using embedded electronics (PICs and AVRs) as control signals for analogue circuits with some hands-on circuits and code hacking. Modular mayhem will unfold!
Förmedling – Ett jobb för konstnären?
Lars-Gunnar Bodin föreläser över verbet förmedla och dess roll inom konsten
Kungl. Konsthögskolan, hus 28
Torsdag 18/9 kl. 15.00
Fri entré
Alla som är intresserade av att bygga, modifiera eller reparera syntar och andra (o)ljudslådor är varmt välkomna till oss för ett trevligt DIY-mingel!
Vi har öppet mellan klockan 18.00 och 21.00 (OBS! till klockan NIO!) och adress är EMS, Söder Mälarstrand 61, Stockholm. Ingen föranmälan behövs.

Ta gärna med egna byggen, scheman och skisser. Lödkolvar och vanliga verktyg finns att låna. Har ni några frågor så maila teknik@elektronmusikstudion.se och märk mailet "DIY".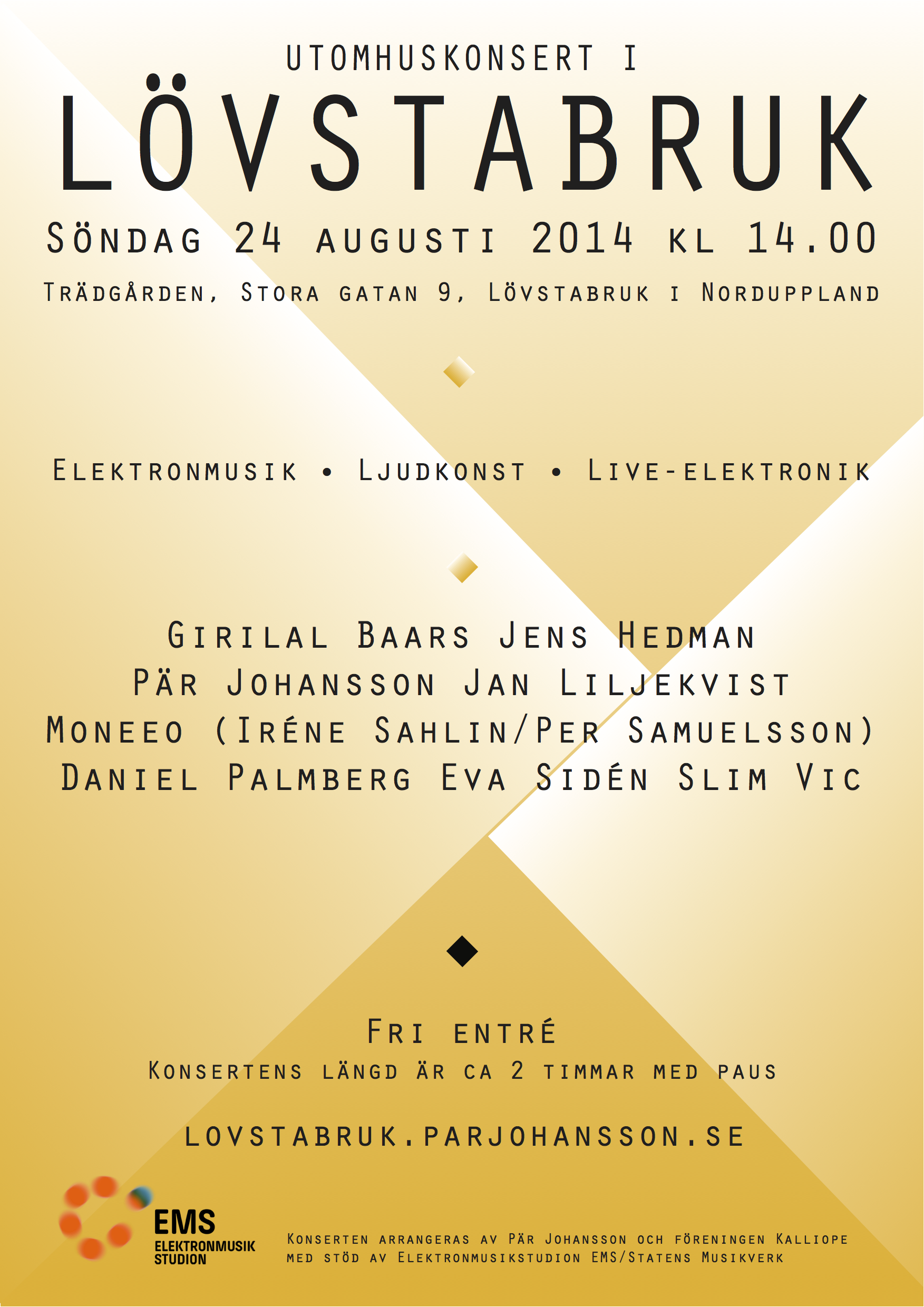 Elektronmusik, ljudkonst och live-elektronik i trädgården på Stora gatan 9, Lövstabruk, Norduppland.
Fri entré!
Medverkande:
Girilal Baars
Pär Johansson
Jan Liljekvist
Moneeo (Iréne Sahlin & Per Samuelsson)
Daniel Palmberg
Sidén Hedman duo (Jens Hedman & Eva Sidén)
Slim Vic (Viktor Zeidner)
Konsertens längd är ca 2 timmar med paus.
Facebook: https://www.facebook.com/events/501186360016399/
Konserten arrangeras av Pär Johansson och Föreningen Kalliope i samarbete med Lövstabruks kulturförening och Elektronmusikstudion EMS.
Vi har tyvärr råkat ut för ett datorhaveri i Studio 2 vilket har lett till att studiodatorn nu är inlämnad för service. Förhoppningsvis återfår vi det så snart som möjligt, men det beror så klart på vad det handlar om för sorts fel. ​
Under tiden har vi gjort en temporär setup med hjälp av livedatorn och ett Motu-ljudkort så det går fortfarande att arbeta i studion även om livedatorn inte riktigt har samma resurser som den stationära. En ytterligare konsekvens av detta är att de projektmappar som ni har lagrade på hårddiskarna i Studio 2 för tillfället inte går att komma åt om ni inte har tagit en backup.
Förhoppningsvis har vi fått ordning på det här snart och vi hoppas att den temporära lösningen kan fungera för er så länge.
On occasion of Mr. Rózmann's 75th birthday Editions Mego in collaboration with EMS will release the definite edition 7 CD box set of the masterwork Twelve Stations. It was composed between 1978 and 2001 and has a running time of nearly 7 hours.
RELEASE DATE NOVEMBER 17, 2014!
Tillsammans med Musikverket och Scenkonstmuseet byter EMS logo från och med 18 juni. Läs mer på Musikverkets hemsida.
http://musikverket.se/artikel/musikverket-far-ny-visuell-kostym/
VEMS fortsätter fira sitt 25:e år och hälsar alla varmt välkomna till Årsta på jubileumsårets andra klang-, brus- och jubelkonsert! Ett picknick-passande evenemang som genomförs även vid regn! Fritt inträde! Tonsättare och ekvilibrister verksamma vid Elektronmusikstudion bjuder på levande elektronik och elektroakustiska verk i formfulländad danspaviljong.
Alla som är intresserade av att bygga, modifiera eller reparera syntar och andra (o)ljudslådor är varmt välkomna till oss för ett trevligt DIY-mingel! Vi har öppet mellan klockan 18.00 och 21.00 (OBS! till klockan NIO!) och adress är EMS, Söder Mälarstrand 61, Stockholm. Ingen föranmälan behövs.